Sand Rail Operation Rules
1. Vehicle Maintenance. Before each ride, make sure the tires look properly inflated, 5 lbs of pressure. Check the oil, gas and coolant levels, and refuel after 2 hours use. Do not get sand or water in these reservoirs. Maintain our sandrail as if it were your own. Check for loose parts. Check for missing, broken or bent parts. Allow the engine to warm up for 5 minutes before you drive off into the sunset. Investigate any strange noises, using common sense, stop driving and call us immediately if you suspect a mechanical problem.

2. Fill the fuel tank only 3/4 to 7/8 full. Topping the fuel tank doesn't allow for expansion and shifting of the liquid.

3. Start the engine while seated. Otherwise, if the sandrail is in gear it may get away from you and cause an accident. Please seatbelt yourself and your passenger first. Put your helmet and goggles on. To operate the sandrail, depress the clutch and place into NEUTRAL. Only then should you start the engine.

4. Stay off the pavement as much as possible. The rear paddle tires wear out drastically on pavement before your very eyes. Walk to the restrooms - don't drive there! Trailer the sandrail to and from your campsite - don't drive there! Most all paddle wear happens when driving from the sand to the trailer parking space. Please conserve our tires.

5. Practice driving your first 20 minutes, without venturing too far. Not only will you have a shorter distance to travel back in case the machine develops a problem, but you will have more time to get used to controlling the machine at a lower speed.

6. No extreme driving. You break it, you'll pay to repair it. No jumping, cookies, brodies or wheel stands. Do not pop the clutch! No excessive speed and please, please slow down for the bumps and the moguls.

7. Stay out of narrow trails. Steering through a trail is difficult in a sandrail. Please drive only in wide open areas and slight hills. You may climb steeper hills in 1st gear.

8. Winch the sandrail up onto the trailer. Driving the sandrail up onto the trailer is difficult and is extra wear on the clutch. Instead, drive straight up the ramp placing the front wheels on the rear deck. Select NEUTRAL. Loop the winch strap around the front vertical frame members. Then winch it straight up onto the trailer until the rear wheels just touch the wheel wells.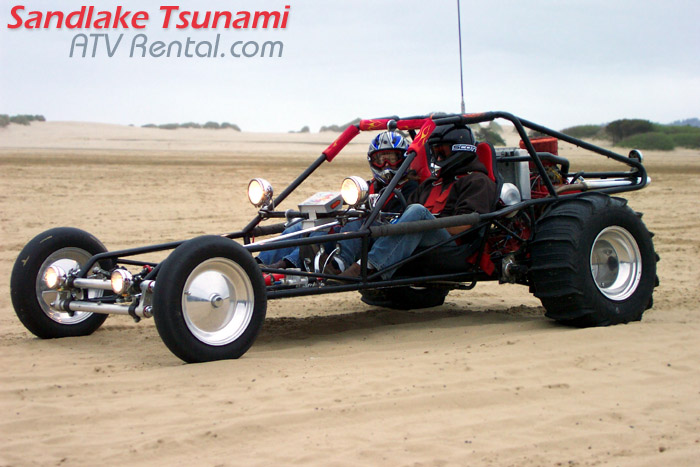 "Reserve your riding time
Call 503-965-6572 anytime"